Shop Raised Garden beds
Placing an order for Raised Garden beds is as easy as ABC!
Scroll down to view all Veggie Bin  options, once you have made your choice you can add to cart and then confirm order, we deliver to all of Melbourne for a flat fee of $66 (this fee covers up to 10 bins)
When order is placed we will call that day to confirm suitable delivery time (delivery is within 3/4 days and often next day).
If you are outside of Melbourne don't worry we still deliver at great rates (use the contact form to request quote or just call on the numbers below)
Payment options are direct deposit, COD or Paypal
We will deliver and place Veggie bins exactly were you need them and now offer an installation service as well (including Wicking beds)
You can come and collect from us, its always a good time to visit the Yarra Valley,
-385 Tarrango rd Wesburn (pls call before you visit to ensure we are onsite)
Feel free to contact us via the "contact us" tab or call Dan on 0438332991 or Vaughan on 0412685467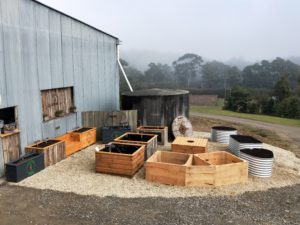 News!!
We are now delivering into the greater Sydney and Canberra area every 2-4 weeks, use the "contact us" link or call Vaughan on 0412685467 for more information or to place an order
Showing 1–16 of 24 results
Showing 1–16 of 24 results