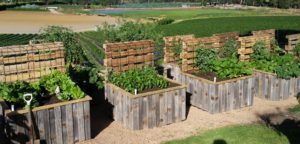 We are based on an apple orchard in the Yarra Valley and have been selling Apple bins as raised garden beds for many years, over this time we have modified and improved our offer in many ways. 
After a few picking seasons orchards will start to update their Bin fleet with new bins, however everyone deserves a second chance which is why we transform these bins into raised garden beds (and some other cool products)
To date we only advertised and shared our fantastic veggie garden stories on Social networks and online classifieds we have finally got our Website up and running (long overdue!!) However much of our business have come from referrals and this is because we are passionate about delivering great service and advice.
We hope you find this webpage easy to navigate and can now see all the awesome products we can offer to you.
Our goal is the same, spread the word on how rewarding it is to grow your own produce and deliver exceptional service to you the customer.
In the coming weeks we will be including a number of new lines and will launch an installation program…stay tuned
In the meantime, happy gardening!!!
the Veggie Bin Men
We love our customers and welcome your feedback and suggestions. Use our Contact Us page to tell us what we're doing right or what we can improve on or if you have any questions about Veggie Bins.